The Hyde Road widening scheme is a fair few years old now. It was funded by a government "pinch point" funding scheme where local authorities can bid for schemes to alleviate congestion. The scheme has been pending for such a length of time that signs forewarning of "imminent" construction have been in place since around 2015-2016
A screenshot of Google Streetview from 2015 showing a sign warning of imminent construction
It is worth pointing out the plans originally shared in 2013 at the council's cycle forum which showed segregated cycle lanes throughout the scheme, and a bypassed bus stop. While these look a little underwhelming in 2019/2020, back in 2013 they were positively ambitious and still represent a far higher level of service than on 99.5% of Greater Manchester's roads.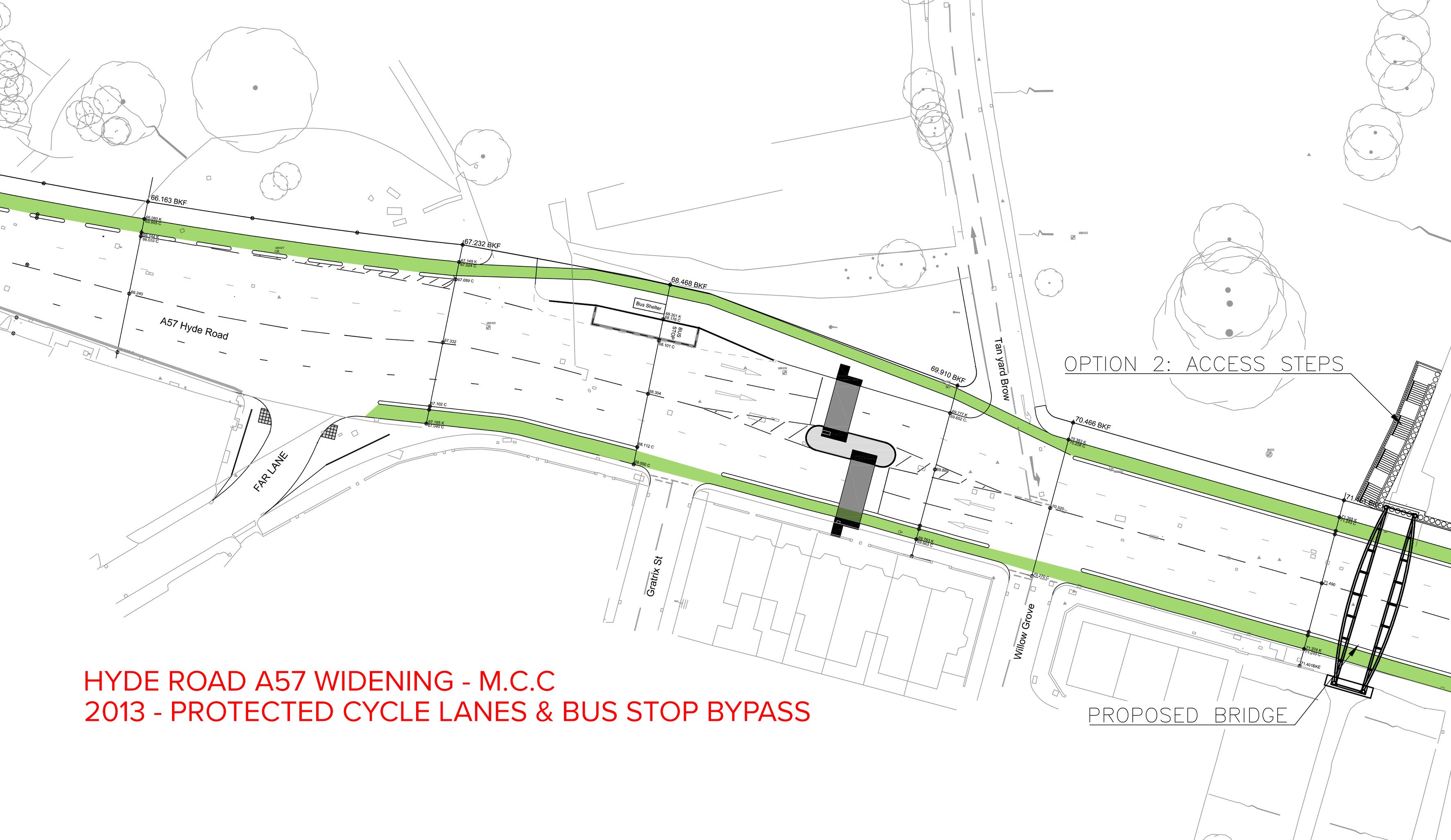 As such, everyone had assumed this was the layout that would eventually be built and quietly forgot about it.
That is, until August 2019 when the council website was update with new plans:
These plans show a straight across pedestrian crossing rather than a staggered one (good) and it is closer to the access steps for the Fallowfield Loop cycle path which passes on a bridge overhead (also good). However, they have removed any sort of safe space for cycling. Not only this, but the website stated that the Fallowfield Loop bridge would be demolished for the widening and a new one wouldn't be added in until 12 months later, leaving the city's second most popular cycleway split in two for a whole year.
The current historic old railway bridge would be removed and replaced with a longer new bridge which looks a lot less interesting but can span the 4 lanes of traffic. New access steps would be installed to access this path, however there would be no ramp, only a wheeling ramp on the stairs for cyclists to walk their bikes up.
Naturally this was met with negative reactions. Even if we ignore the wider issues with the whole scheme (i.e. that this section of Hyde Road doesn't appear to be the pinch point, or that widening roads actually often induces extra traffic, and thus noise/pollution without significantly improving journey times), there were many legitimate objections. The lack of any space for cycling was an obvious one, the lack of an equality act compliant access point to the Fallowfield Loop was another.
It was also identified that it would be difficult to cross the side roads along Hyde Road, and that
continuous footways
should be used where possible to re-enforce pedestrian priority.
There was a consultation event which I attended and have
previously written up
. At the time, a local councillor present at the event stated that she was unhappy with the negative feedback the plans had received and would be putting the scheme on hold until it could be redesigned to suit everyone. As we now know, this was not the case and I speculate that while this councillor intended to do just that, higher ups in MCC pushed back and pushed this scheme through as is.
All was quiet for a while, so I put in a Freedom of Information Request for the results of the consultation. Sure enough, just under 20 days later, we got an
update
. There are several inaccuracies in this response which I will go through now.
While it is true the works do only run for 300 metres, this has not stopped the
Stockport Road widening scheme
, funded from a similar source, from including cycle facilities. It is obviously untrue that the road does not link to any other cycle networks as the Fallowfield Loop runs directly overhead, which links to the Ashton Canal, Wilmslow Road to Didsbury or the City Centre, and the upcoming Chorlton Cycleway and thus Stretford Cycleway. The road also categorically
is
a "Bee Line" (i.e. a route on the proposed Bee Network of cycling and walking).
The orange line denotes the proposed Beeline along Hyde Road, and the yellow is the Fallowfield Loop. TfGM intends that the whole of the A57 from the city centre to Derbyshire will have protected walking and cycling facilities in 10 years. Tameside are already progressing a section in Denton. So it would make perfect sense to do this section of Hyde Road now to avoid future disruption and cost. As it stands, with the proposed plans, there is no room to retrofit cycleways in, without removing traffic lanes. In an ideal world, the scheme would be made wide enough now to fit 4 lanes plus two cycleways, so two lanes can be converted to bus lanes and cycleways built in the future. This is extremely short sighted planning. The only space left for cycling is a 3.0 metre wide pavement on the North side which is too narrow, and shared pavements are awful provision on city streets which see little use.
While it is technically correct that a bid was made to the Mayor's Challenge Fund (TfGM) for money to add the cycle improvements, it is not surprising it wasn't accepted. Thanks to another FOI, I have the
bid document
and it is poorly written with plenty of typos, and little evidence to back anything up. They are also asking for £3m for 300 metres of cycleway, which is quite high, especially since the whole road widening scheme is costing £4.5m, including removing a bridge and digging up an entire road! I do not believe that it could cost £3m to add some segregation kerbs and green tarmac to a road that's already dug up. While it is technically true that a bid was made and rejected, this seems to be entirely MCC's fault.
This is simply a shocking decision. As people complained that the steps discriminated against disabled users, and those riding non standard cycles that cannot be easily wheeled (trikes, cargo bikes, tandems), MCC's response was to simply remove all access from the plans, including the steps. This feels entirely like a punishment for those of us who chose to respond critically to a consultation rather than just agreeing. I have still not been given a reason as to why the ramp isn't possible: the land is seemingly owned by Sustrans, a walking and cycling charity who maintains the Fallowfield Loop, so it seems odd that an arrangement couldn't be made with them.
The only positive changes I can see in the
new plans
is that the lane widths have been narrowed slightly at the crossing as I suggested (which helps protect pedestrians and also those cyclists who are brave enough to use the road here), and an island has been added on one of the side roads to assist people crossing. No continuous footways, no cycle tracks, nothing. The image shows the lack of steps now too.
As such, I decided to make yet more Freedom of Information Requests. I asked for the
equality impact assessment
. Despite all of the flaws noted above in terms of accessibility, cycle safety, issues with crossing side roads etc, it only contains the marginally positive aspects and ignores the negative ones entirely. Using this new evaluation method that MCC are pioneering, I will be rating my washing up tonight. I smashed half the dishes and the rest have food still on. However, we will ignore those: two of them are as clean as you'd expect, so I give myself a perfect rating on washing up.
I asked for the
Road Safety Audit
. Despite stating that there were eight vulnerable road user (pedestrian, cycle, motorcycle) collisions with three serious in only 5 years, it ignores all the dangerous parts: cyclists being asked to ride on a four lane road with buses and HGVs thundering along, or pedestrians having to cross side roads with no help. Instead it only mentions signage, guardrails, and parking. A grand total of four items for the entire scheme when I can think of double that off the top of my head. See the above innovative self-evaluation method.
Finally, I asked for the
full consultation results
, i.e. what everyone had commented. And these are the most interesting. As I asked for the comments made by any means (verbal, email, letter, website), we can assume this is the full data-set that decisions were made from.
I draw your attention to the above pie chart which was published with the original consultation result FOI, prior to me requesting the individual comments. This is how MCC categorised the comments, to make it seem like the dissenters were a minority. However, reading the comments in the above PDF, it is hard to see how these figures were reached.
The PDF is colour coded. No key was given as to what the colours mean. I cannot tell what the difference is between the red (C) and blue (N) responses. Both red and blue are overwhelmingly negative, some very so. Yellow (Y) does appear to be positive. The minority of responses are truly neutral from my evaluation. Green appears to be official responses, noteworthy how the Tameside Cycling Development Officer who was critical of the plans was not graced with a response.
Plotting my evaluation on a similar pie chart, we can see a completely different story to what MCC claimed on their site. I am trying to work out why this can be. It appears the agree percentage is the same, but they have far more "neutral" than the data really shows (the vast majority of the data takes either a positive or negative stance, and the neutrals are spread between the colour classification MCC used, so I haven't plotted "neutral", see the data above to confirm for yourself). My FOI requested all responses, including ones made in person or by post, so we must assume that this data is included. Even being generous with assigning "neutral" stances to what are quite negative comments, I simply cannot come close to MCC's numbers. The majority of comments disagreed, by my evaluation. Whether that's a slight majority or a vast majority is debatable but I don't think there can be any doubt that there was a majority.
As such it is shocking that the scheme is going ahead with effectively no positive changes, despite suggestions made in the responses. This is another case of MCC ignoring what people want from them, and doing everything they can to spin it in their favour, even though basic fact checking can debunk many of their claims.
All of this is very reminiscent of the Great Ancoats Street Swindle which went down in much the same way. Walking and Cycling campaigners were promised by MCC's Executive Member for the Environment, Planning and Transport, that it would not happen again with Hyde Road. Well… it has.
With the climate crisis looming, extremely poor air quality and congestion in Manchester, the ever persistent threat of road danger, and people being forced into car ownership by unfair, unequal, outdated road design, it is astonishing that schemes like this are not only being proposed in 2019/2020 but actively pushed through against the wishes of the public, councillors, cycling commissioners, and even MPs/MEPs.
Let's hope 2020 brings better…
Happy New Year all!